Limousines Unlimited are located in Perth, Western Australia an
d offer the very best in top class limousines, friendly drivers, service and excellent value and cater for all
occasions
Events and occasions we have catered for
Weddings
Divorces
School Balls
Winery tours
Birthdays
Bucks parties
Hens nights
Anniversaries
Coastal and Sunset tours
Special occasions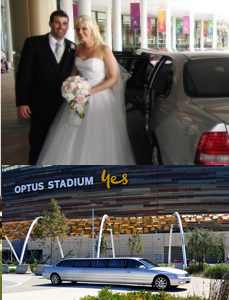 Arrive in style
You can also purchase a Gift Voucher for our limos which is perfect as that special gift from Perth Limo Hire.
Treat yourself and your friends or family to a cruise of Perth and surrounds in one of our immaculate stretch limousines sipping champagne (or beer or water) enjoying the scenery along the coast, river, winery region or anywhere else you wish celebrating life to the full. Of course our stretch limousines are available for weddings (and divorces). Here at Limousine Hire Perth and Limo Hire Perth we cater for special occasions. You won't be disappointed!
We are proud members of the Wedding Car and Limousine Association WA and as such abide by their strict code of ethics. We like to think our own standards have always been "up there" with our excellently maintained limousines and caring, courteous and understanding staff who have a great knowledge of Perth and surrounds. We can cater for all occasions from two to eleven passengers and our service includes arranging any booking to suit your exact wishes and individual requirements. We try to please !
Weddings are one of the most important and memorable days of a bride and groom's life and as such we are very experienced in ensuring the (small) part we play in the day is as stress free and easy for everyone involved as we can make it. Our immaculate limousines are equipped with all the usual items such as ribbons, tyre covers, ice, bottled water, glasses, suitable music, tissues etc and we also ensure straws (keep that lippy looking luscuous), sewing kits, umbrellas, soda water (great for touching up little accidental gown stains) and even "illness" bags – just in case! Our drivers always check as we approach a few minutes away from the ceremony venue to confirm what time the bride would like to arrive – some wish to be exactly on time, others prefer a "fashionably" late entrance – we can always take the scenic route to suit a convenient arrival time. At a convenient time our driver liaises with the photographer to ensure we are in sync for the after ceremony photo locations with a cool air conditioned limo with the bar stocked ready for the thirsty bridal party to begin celebrations. When you choose Limousines Unlimited for your wedding limo hire in Perth you can be assured you have made the right decision. We also offer a discount newlyweds transfer at the completion of the reception – your wish is our command!
School balls are an important event for those involved and we really enjoy being a small part of the celebrations. When choosing your school ball limo it is important to make sure you are getting what you deserve and we pride ourselves in offering exactly that.As a guide our normal deal is to meet the happy guests at their "pre" event and once the customary parents etc photos have been sorted we cruise to Kings Park or South Perth foreshore or similar (the choice is with our guests) for more photos and socialising and then drop to the school ball (and/or) graduation ball. We are then waiting at the end of the evening ready to transfer the happy guests back home or sometimes to an after ball "get changed" address and then transfer to an "afters" location to wind down from a great evening out! Our school ball limo hire limos have serious sound systems and a range of DVD music videos and ipod connections along with the usual LED lighting effects, red carpet etc to get into the mood for a fantastic event.
We are proud members of the Wedding Car and Limousine Association WA.
Winery tours are popular to celebrate almost any occasion any day of the week. Here at Limousine Hire Perth we know the Swan Valley area very well and always have the local area tourist/location maps on hand to assist in choosing your preferred stops if you don't already have a set plan. Of course it's not only about wine – there are restaurants, breweries, distilleries, chocolate and cheese factories, ice cream stops and much more! For those tourists eager to see some local wildlife we might even stumble across a kangaroo or two! If you wish to bring a picnic hamper we can suggest a couple of very picturesque riverside spots to relax for lunch as an option to lunching at one of the many venues. Winery limo Perth is made easy when you choose us. Our drivers are always good for suggestions on all the popular locations – but of course your wish is our command!
We help celebrate birthdays for the young and young at heart – our record is 100 years young and the lady celebrating with family was a real hoot! Any age and any time – we aim to please. Wedding limo hire, school ball limo hire, winery tour limos – we cater for all.
Hens outings are another popular outing and our experienced and caring and sharing drivers are happy to accommodate the mild to wild lively guests as they partake in an day or evening of casual cruising with a few stops, winery visiting, pole dancing (not in the limo but!) or any other plans the ladies have in mind. It's all great fun and dare we say (touch wood!) "illness" has not been a problem – our guests may be lively but also respectful (whew!).
While some say Perth has the worst drivers in Australia our drivers definitely do not fit that category. Our record speaks for itself – nil incidents/accidents in nine years (and hopefully forever!) and a great part of that record stems from our very experienced, caring, courteous, knowledgeable and aware drivers. Similar to John West – we select only the best! We all know crap happens but so far not to us or our passengers at Limo Hire Perth.
Here at Limousine Hire Perth we are happy to accommodate disabled passengers with fold up wheelchairs, walking frames and sight aid dogs as well as baby seats and child booster seats. Age and infirmity is no barrier to having a great day or evening out with Perth Limousine Hire and Limo Hire Perth.
Here at Limo Hire Perth we are proud to to able to assist with some great causes and one of those is Camp Quality. It's great to see the happy smiling young ones enjoy a great outing. It's easy to forget how fortunate we are sometimes.
We are proud members of the Wedding Car and Limousine Association WA.
Whether it be a winery tour limo, wedding limo, school ball limo, birthday limo, coastal cruise limo, anniversary, divorce or any other special occasion limo we are here to help and be a small part of your day or night and help make your experience a memorable one for all the right reasons!
At Limousines Unlimited, we specialise in limousine hire in Perth. All of our professional drivers are fully trained and naturally very friendly, which will, of course, make your Perth limo hire experience all the more enjoyable. When it comes to limo hire in Perth, you want to arrive in style, and this means arriving in a quality vehicle. Unlike some other Perth limousine hire companies; we have top-class cars that are all maintained to the highest possible standards and kept in pristine condition.
We can provide cars for any event or occasion that you may be celebrating. We provide wedding limousine hire in Perth and offer excellent value for money. Of course, we can all remember the school ball and how proud our parents were. Why not create your own memories for your son or daughter and arrange a school ball limo in Perth to really make the night special? School limo hire is becoming increasingly popular, and with everyone owning camera phones, you can capture every moment of the occasion.
With Western Australia renowned as being an excellent wine-producing area, you could consider our winery limo tour in Perth to make sure that you arrive and leave in style! Our winery limo tours are becoming nearly as popular as our wedding limo hire in Perth and in reality, hiring a limousine is no longer a preserve of the rich on famous. Limo hire in Perth is a fantastic way to make any special occasion truly memorable.
When it comes to Perth limo hire, we have all events and occasions covered including:
Wedding limousine hire

School ball limo hire

Winery limo tour in Perth

Limousines to help celebrate divorces

Limousines for hen parties

Limousines for bucks parties

Limousines for anniversaries

Limousines for coastal and sunset tours
People use our Perth limousine hire service for several reasons. Sometimes they hire our cars for themselves, book them for friends or family, while many purchase our gift vouchers as a present. Just imagine sipping champagne in one of our stretched limousines in Perth, taking in the stunning coastal views. You and your friends or relatives can sit back, relax, enjoy some fabulous scenery and generally have a wonderful time.
If you have any questions about our service or would like a quote, you can contact a member of our friendly and knowledgeable team. You will find all of our quotes wholly transparent and easy to understand. We will do everything we can to make your day special and one that you remember for the rest of your life.
So, if you are looking for limousine hire in Perth, perhaps wedding limo hire in Perth, school limo hire in Perth, we have it all covered. If you would like to know about our services or you have any questions, you can call us on 0417 923 907, email limousinesunlimited@iinet.net.au or alternatively, you can contact us directly via our website. We look for to hearing from and taking care of all your Perth limo hire needs.